Outdoor Living Services in Henderson, NV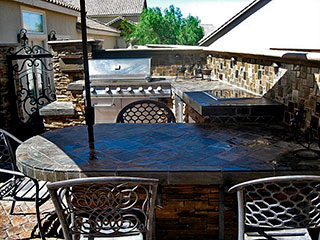 Homeowners in Henderson and the surrounding area can turn to Scapes and Stones for high-quality, custom outdoor features. Our residential landscaping planning, design, and installation services are second to none. We are experts in the installation of travertine flooring, stone and slate hardscapes, water features, and outdoor kitchens. We'll transform your entire property's exterior into a work of art that will be the envy of the neighborhood in no time.


Travertine, Stone and Slate Hardscapes
Using high-quality materials that are resilient and long-lasting is a priority when designing outdoor areas. For this reason, travertine paver blocks are highly recommended. These are fantastic for poolscapes, walkways, and other hardscaping applications.

The use of travertine in garden design is highly recommended. It can withstand the elements and let water seep into the soil underneath. Since it absorbs less heat than other paver materials, this stone is especially great for use around pools. Travertine veneer is frequently used to encase retaining walls, among other uses. Because of this, the concrete walls take on a sophisticated and one-of-a-kind appearance.

The beauty of natural stone makes it an excellent choice for any landscaping project. The diversity of natural stone—from slate to bluestone to sandstone to granite to flagstone — is primarily responsible for this. Natural stone is used for all our retaining, borders, edging steps and other features.


Fountains, Water Features, Ponds and Waterfalls
A fountain once installed, usually serves as the focal point around which the rest of your landscaping is organized. Some clients prefer more natural-looking water features and ponds are an excellent installation for these spaces. We can design these in styles such as Tropical, Mediterranean, Zen, etc.

We'll ensure they match the style of the rest of the landscaping in design. Ponds are significant installations for outdoor areas that want a more natural appearance from their water features. We can construct these in various architectural styles, such as the Mediterranean, Zen, Tropical, etc.

We'll ensure they coordinate with your landscaping in terms of style and aesthetics. You could also choose a waterfall with a pond, which will require careful placement since fish and underwater plants need a specific amount of shade to thrive. We design and install rock waterfalls and natural waterfalls or grottos on poolscapes We consider the overall theme and plan these water features to blend well.


Outdoor Kitchens
A home with a beautiful outdoor area is more welcoming and attractive to potential buyers. Stunning outdoor spaces, such as gardens and yards, can increase a home's resale price. Most homeowners agree that outdoor kitchens are the best way to make the most of their outdoor space. Thanks to these amenities, the area is transformed into the ideal place to unwind. This space can also be utilized for social gatherings.

Over the years, we have completed various outside kitchen design and installation projects for clients in Henderson and its surrounding regions. We plan everything from the counters, flooring outdoor lighting seating etc. When you engage us, we guarantee the lowest possible price for outdoor kitchen services.

Our customers are particular about the design of their outdoor kitchens, and we respect that. Most homeowners have specific visions for the ambiance they hope to achieve on their land. In such a circumstance, we collaborate intently with the client to fully grasp their objectives for the area, and then we craft customized solutions to meet those needs.

If you're looking for superior hardscaping services, we at Scapes and Stones are the company to call. We offer excellent quality at cost-effective pricing. For more information, get in touch with our experts at 702-405-8860 or fill in this Online Form.
We Provide Services to the Following Cities and Towns in NV: