Pavers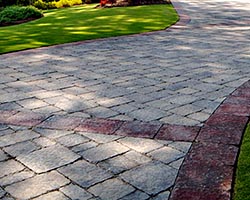 Mega-Bergerac®
Classic Collection

The timeless, hand-cobbled appearance of Mega-Bergerac® recalls an era when horse-drawn carriages traversed the avenues of Europe's great cities. Its trademark dimpled surface, unique color blends, and a variety of sizes provide you with the ability to create one-of-a-kind works of lasting beauty.


Specs
3 Piece

9-7/16 x 3 ⅛ x 4 ¾
9-7/16 x 3 ⅛ x 9-7/16
9-7/16 x 3 ⅛ x 14-3/16
Large Square

14-3/16 x 14-3/16 x 3 ⅛
Square foot varies depending on installation. All measurements are approximate. Contact your local Belgard dealer for details.
Colors

Bella Blend

Sierra Blend

Toscana Blend

Victorian Blend
Patterns

3 Piece Pattern A

3 Piece Pattern B

3 Piece and Large Square
We Provide Services to the Following Cities and Towns in NV: